Become a Member
Levels of Membership
Individual ($15/year)
Family ($25/YEAR)
Heritage ($50/year)
Corporate ($100/year)

(All memberships are tax deductible)
Lifetime partial $250.00 (a one-time payment of $1000 that can be made over 4 years)
Lifetime – full ($1000)
To join, you may download THIS FORM and mail it to us: Terrace Park Historical Society, P.O. Box 3, Terrace Park, Ohio 45174, or choose one of the Paypal options on the right.
We also appreciate donations. As we are a 501 c (3) non-profit corporation, all contributions are tax deductible.
The Lifetime membership category, started in 2005, designates a one-time contribution of $1000 to the TPHS, which can be paid over four years
Lifetime members are offered a museum quality print of a painting by Terrace artist Roselle Shundich, and are commemorated on the Lifetime Membership plaque in our offices.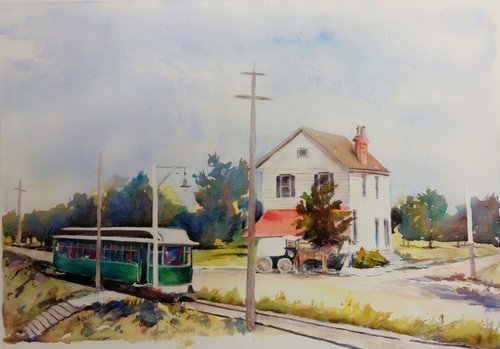 The painting, a watercolor, was commissioned by the Terrace Park Historical Society. The original hangs in our Gallery, and prints have been made as exclusive gifts to our Lifetime Members. The picture came from a postcard from 1908 and shows the "traction line" that once ran through the village, and the corner of Terrace Place and Harvard Avenue. The building is now owned by Paul Kennedy, but was once a grocery store.